Exhaust Fan Cleaning
Duct Work & Exhaust Fan Cleaning Services.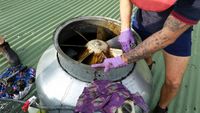 All Things Kitchen is focused on providing professional duct cleaning services to the food service industry.
Our professional duct cleaning services are vital to preventing food safety and fire safety issues in commercial kitchens. A properly maintained ventilation system results in improved health standards, an enhanced sanitary image, improved ventilation for customers and staff comfort, increased energy savings and compliance with local frr and health codes.
Many restaurant fires begin like this:
A simple flare-up occurs under the range hood.
This flame makes contact with grease filters and ignites.
The flame accelerates due to the exhaust fan running through the filters, and up the duct.
If significant grease build-up exists on the interior of your ductwork, this also will ignite and spread upwards and out to the exhaust fan.
Professional duct degreasing on regular intervals will reduce the risk of grease fires and is required by the latest Australian Standards. When you get your kitchen exhaust system cleaned regularly with All Things Kitchen, you will reduce common maintenance problems such as worn fans, motors and potential fire hazards.
Our process includes heavy detergents, degreasers and foaming applications. We begin by safely protecting and covering all the exposed over-spray areas in your kitchen. Using hot water and steam, we clean your range hood, ductwork and exhaust fans. We finish the job with a final detailed cleaning and polish. Your system will then receive our dated inspection sticker, certifying that you are in code compliance with Australian Standards.
---
Commercial kitchen exhaust fan repairs.
All Things Kitchen provide commercial kitchen exhaust fans repair and cleaning services, we can clean your kitchen-hood exhaust system and service your exhaust fan at the same time. Our exhaust fan cleaning service includes all types of restaurants, cafes, clubs, pubs, hotels, schools and food courts. We are skilled professionals and fully licensed to help with your kitchen exhaust fan cleaning service needs at affordable rates.
Licensed exhaust fan Contractor
When you deal with our company you have peace of mind that we are licensed Electrical and Ventilation fan Contractors restaurant and cafe exhaust fan specialist.
Our Service Commitment includes
Our Prompt Response Time.
Detailed quotation of Service
Quotations Request and Service at no additional charges.
Manufacturers Warranty
Just call All Things Kitchen at 5997 5901 for our efficient service.